Frequently Asked Questions (FAQ)
Question: Why visit the Writing Lab?
Answer: The Writing Lab is a safe, confidential and encouraging environment to discuss and interactively work to enhance your academic literacy practices. It is NOT only for those that are struggling with writing, but, rather for everyone to improve their writing at any stage of the writing process as reading and writing at university is NEW for everyone.
Question: English is not my first language. Can you still help me? 
Answer: Yes, we are student-centred space that is focused on developing your academic language. Our focus is not necessarily on grammar or spelling but rather to assist in communicating your ideas efficiently. 
Question: Why does the Writing Lab not offer editing or proofreading services?
Answer: We aim to enhance your understanding of writing as a process and encourage a thinking-through-writing approach. Whilst editing and proofreading are important parts of the writing process, we focus on the conceptualisation and refining of ideas. 
Question: What services do you offer?
Answer:
We offer both one-on-one and online consultations and group consultations focusing on enhancing your academic writing and literacy needs. See
our services
for more info and a guide on how to book. We also conduct workshops by request only; please complete our workshop request
here
Question: I am a distance learning student. Can the Writing Lab still assist me?
Answer: We offer online consultations on our virtual consulting platform with voice, video features and real-time 'chatting'. Ensure that you select the 'Online consultation' in your appointment form and return to your booking to access the link to the online platform or via your reminder email.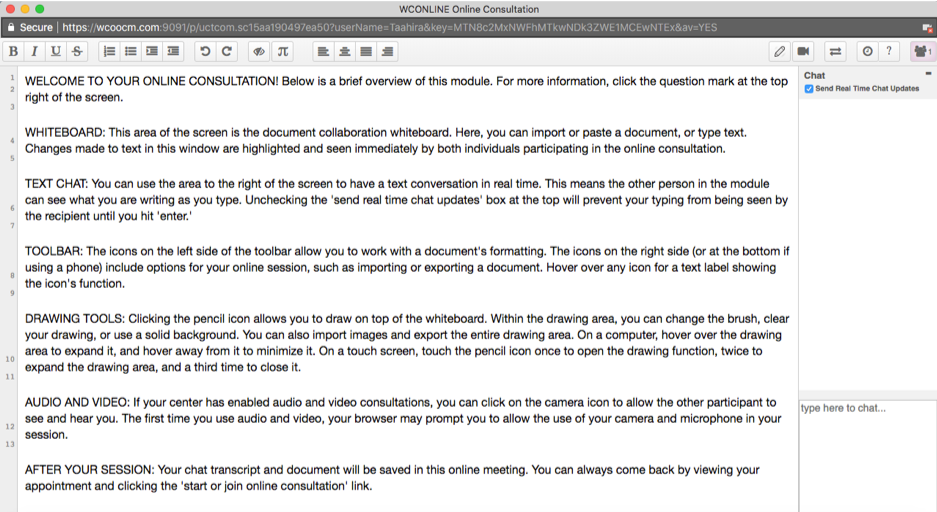 Question: How does the online platform for online consultations work exactly?
Answer: After navigating to the online site, your consultant will virtually meet you to discuss your writing needs and concerns via the real-time 'chatting' feature on the right side of your screen. On the left side of your screen is the whiteboard where you can import your document (arrow icon at the top right corner) to and where your consultant and you can make changes. Your queries on the whiteboard will be differentiated from your consultants by the use of colours (which you can change at the top of the right-hand corner). You can also export the feedback and save the document for later use by using the same arrow icon.
Question: I had an online consultation - the consultant and I made notes to my document on the whiteboard, how do I access that information?
Answer: Our online platform allows our clients to access that chat and whiteboard edits anytime they wish after their consultation. All you need to do is navigate to the online platform via the link on your appointment form. You can download the changes as well by using the arrow icon as indicated below.

Question: How will I know if my booking is confirmed?
Answer: Once you have made a booking, you will receive a confirmation email via the email you registered your account with. This will have all the details you need including the location of the Lab and the link to the online platform (if you made a booking for an online consultation). You will also receive a reminder email on the day of your appointment.
 Question: I can no longer make an appointment. What do I do?
Answer: You can navigate to your booking and make the necessary changes: either modify your booking to a later time slot or cancel it. You may cancel your booking up to 2 hours before your consultation. You can also email us to cancel fhs.writinglab@gmail.com
Question: Is your booking system accessible with screen reading software such as JAWS?
Answer: Our booking system constantly undergoes review to improve accessibility and is accessible with JAWS.
Question: Is the Writing Centre the same as the Writing Lab? 
Answer: We offer the same services. However, our unit is based at the Faculty of Health Sciences for FHS students only. We also apply an integrated approach to assist you with your academic literacies needs.
Question: Is there a limit to the number of pages you can help me with?
Answer: We assist up to a maximum of 15 pages at a time (including images and tables). Please see our guidelines below.

Question: You are fully booked, and I need to see a consultant before my deadline.
Answer: We do book out quite fast and have extended our hours to cater for the number of appointment requests, however, we recommend that you book two weeks in advance to avoid disappointment. Alternatively, we have a waiting list function that you can opt for. Navigate to the 'Waiting List' function on the day of your preferred appointment. 
Question: I missed my appointment, can I make another one?
Answer: Should you not be able to make a confirmed appointment, you MUST modify your booking by accessing the booking system and making the necessary changes. You can make another appointment, but if you miss TWO appointments, your account will be disabled. 
Question: My account is blocked, and I cannot make an appointment.
Answer:
Please
email us
, and someone will assist you to reactivate your account. We offer a professional service, and in order to create responsible scholars, we expect our clients to also respect and act in a similar manner. However, emergencies do happen, and one of our consultants will be happy to assist.
Question: I have been advised/I would like to visit the Writing Lab, but it is my first time using the Lab. What is the procedure?
Answer:
Register
a free account using your preferred email address and password. You will then receive a confirmation email. Log in with your details, and you can make an appointment on the Health Sciences schedule (the white spaces are open slots). When you make a booking there will be guidelines to help you decide on the duration based on your needs.
 Question: Is there a limit to the number of appointments I can make?
Answer: There is no limit. However, our role is to develop independent and proficient writers. We expect you to apply what you learned during the consultation/s to your future texts.
 Question: What is the fee for making an appointment?
Answer: The Writing Lab is a free service to all UCT registered students and staff. 
Question: How do I make a booking? 
Answer:
Booking is via our
online system
. You can view the instructions
here
. Choose the Health Sciences schedule and make a booking using the white spaces as a guide to our available slots. If you are unsure, you can navigate to 'Area Tools' in the top right and then 'Help' for assistance.
Question: I cannot log in to make an appointment.
Answer:
 Check that you have registered on our system; Change your password if you have forgotten it; Refresh your browser, clear your cache OR visit/
email
us to assist you.
Question: I forgot my password.
Answer:
Navigate to the booking system and choose '
Having trouble logging in?
Reset your password.
' You will receive an email with instructions on how to reset your password.
Question: I cannot find the option to upload my document for my appointment
Answer: Log in to the booking system, navigate to Your Appointments and upload your document. Please read the instructions to upload your document carefully. We only accept document sizes of up to 1MB and prefer Word processing documents. Should you have images in your document that you wish the consultant to assist with, rather bring in the hard copy of your document or email it to us. To reduce your file size, we recommend that your upload text ONLY documents.
Question: I can't find the Writing Lab?
Answer:
We are located within the Department of Health Sciences Education at the Old Groote Schuur Hospital Building, around the corner from the FHS Research Ethics Department, E-floor, Room 53-46. See
here
for directions. 
Question: I need the services of an editor. Can you help?
Answer:
This service is outside the scope of our practice, but we have a list of editors available under our
Resources
Question: My consultation was not what I expected.
Answer:
 We value your feedback and it helps us to improve our services. Please
email
us with your name, concerns, appointment date and time, and we will get back to you.