About the FHS Writing Lab
Welcome to the Faculty of Health Sciences Writing Lab!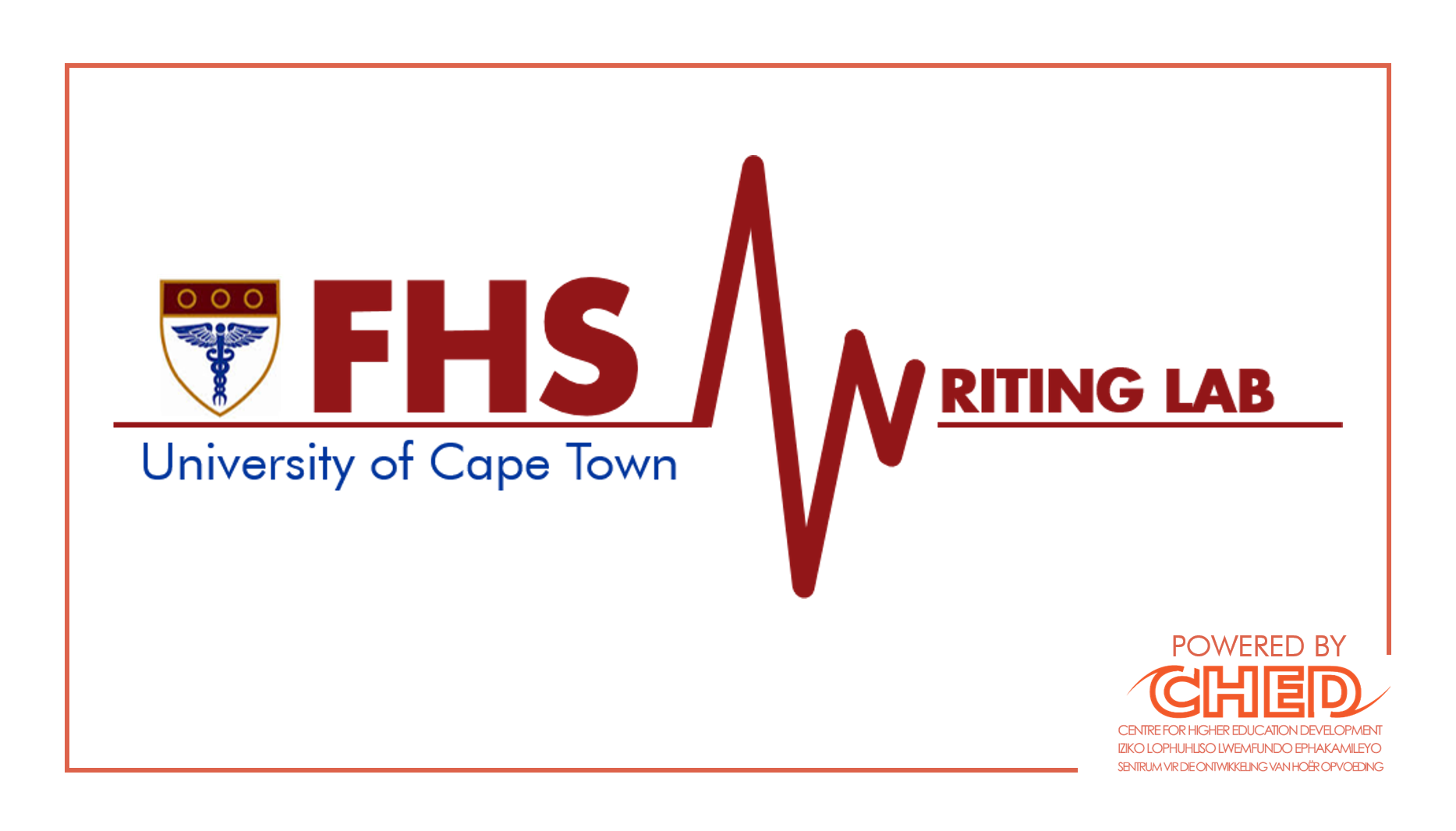 At the Writing Lab you will find a supportive, collaborative space where you can meet with trained consultants to brainstorm and discuss ideas and challenges related to any aspect of your academic reading and writing, whether you are a 1st year, PhD student, or staff member.
Every member of the Writing Lab Team holds postgraduate qualifications in the biological and health sciences, which means that our team has the disciplinary and technical knowledge to understand the topics you are writing about, and the experience to be able to guide you appropriately. Our team is also specially trained to be able to help you identify challenges in your reading and writing, and to teach you about the strategies you can use to develop as an academic writer.
Although some people have a natural talent for writing, most people find the process quite challenging. But regardless of how you feel about your writing, there is always room to learn, grow, and develop your practice.
At the Writing Lab, we strongly reject the idea that those who struggle are "weak" students or "bad" researchers. Instead, we recognise that everyone who has earned a place at university is already a success story (McKenna, 2010), and that failing and getting it wrong is a normal part of any learning process. Our job is to guide and assist you as you build bridges from what you have already mastered, to the new skills and practices you need for success in the university context. Our approach is informed and shaped by a large body of research about academic literacies (reading and writing), and in particular the paper, 'Student writing in higher education: An academic literacies approach' by Lee & Street (1998). We believe that with the appropriate guidance and support anyone can become an effective academic writer, so it's our goal to empower you to become awareness of the things that are holding your writing back, and the strategies you can use to move yourself forward.
At the Writing Lab you will encounter a 'different' type of learning space. We won't make you sit quietly and listen to us speak, we won't tell you what to do, and we won't report on your development to your lecturers or colleagues. Instead, we'll let you educate us about your topic, we'll listen as you tell us about your writing - what you think is working and what you are concerned about - and we'll respect your right to decide which strategies will work best for you. To support your process the Writing Lab offers one-on-one consultations, group consultations, and pdf resources. We also offer customised workshops by request, so please get in touch with us to chat about your needs.
There is no cost to FHS students or staff for using the Writing Lab – all our services are completely free of charge.
Please explore our website to learn more about who we are, what we do, and how we can support you. We look forward to working with you!