Changing Lives One Step at a Time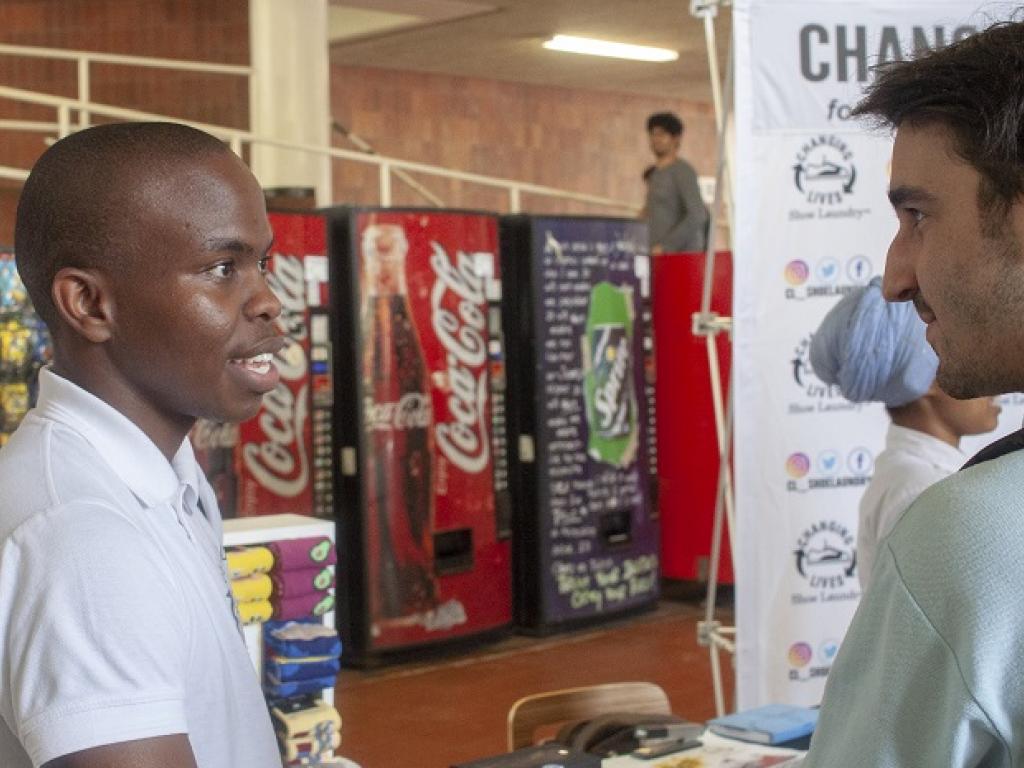 When Manqoba Mdamba started studying toward a Bsc in Social Development at UCT this year, he was determined to positively shift some of the societal challenges faced by South African youth. One he identified was that young adults in conflict with the law found it difficult to gain employment.
It took a great business idea coupled with an entrepreneurial spirit to help Mdamba find a solution to the problem - and this is how Changing Lives Shoe Laundry was born. Student entrepreneur Mdamba runs the business with its co-founder, Vuako Khosa, a first-year PG Diploma in Accounting student.
Recently the business also pitched in the Entrepreneurship InterVarsity challenge, run by the Entrepreneurship Development in Higher Education and aims to identify top entrepreneurs in higher education.
Changing Lives Shoe Laundry services includes washing, re-colouring and refurbishing shoes, and the business idea was born from Mdamba's own frustration at having to wash his shoes. 
"I'm a student as well, and I don't actually have the time to spend washing my shoes. I'm worried about academics, spending time with my friends and leadership things," says Mdamba.
"We therefore target young people and young professionals who do not have the time, specifically university students," he says.
However, making a profit was not their only goal. They wanted to positively contribute to the lives of unemployed youth at risk. "We wanted to do business for good. We didn't just want to capitalise as entrepreneurs," he says.
And how does the business achieve this?
"We create jobs for young people in conflict with the law. The unemployment rate in South Africa is sitting above 50% for young people. The group of people who have been in conflict with the law have criminal records while some do not.
"If you're a young person aged 25 years and above, and you've got a criminal record, it will only be scrapped after 10 years. What are you going to do to sustain yourself?"  This is where Changing Lives Shoe Laundry creates opportunity by offering employment to youth so that they can become economically sustainable. 
Mdamba says his experience as a social worker in KwaZulu-Natal and his Major in Criminology give him a good understanding of the criminal profile of South Africans and why they commit crime.
"A lot of the young people come from unstable homes. Then society also rejects them, and they can't get a job due to criminal record. We are really trying to create a space for them to be economically active."
He says that entrepreneurship is important: "We need to create more opportunities.' It's good for job creation and for creating a platform for other people to live better lives."
But what keeps him going when times get tough?
"Meeting my own needs and wants is basic. But trying to help other people meet their own needs and wants is what I live for," he says.
And, of course, walking a mile in someone else's shoes.
STORY NATALIE KAMMIES. PHOTO FUAD ABRAHAMS