Community engaged learning, global citizenship and curriculum transformation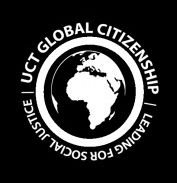 (UCT principal investigator: Dr Janice McMillan)
This project emerges from the work on the UCT global citizenship (GC) programme short course, as well the credit-bearing GC course, 'Social infrastructures: engaging with community for change' run through UCT's Faculty of Engineering and the Built Environment (EBE).
The focus of the research lies in mapping and thereby understanding the possible intersections between community-engaged learning and pedagogy, and the calls for decoloniality in curriculum and pedagogy.
While drawing off data on these two sites, the project is linked to three other research and development projects:
An EU-funded global education learning platform (GELP) project, working in collaboration with GLEN – a European network of NGOs working on global education and leadership. The aim of GELP is to understand global education across a range of different contexts through four study visits and engagements, each with a different focus: Benin (global education, gender and urban/rural), Czech Republic (deconstructing stereotypes), Cape Town (global citizenship), and France (migration). The outcome of the project is global education materials. It ends November 2017.
Two NRF projects, both with a focus on community engagement and on which Janice McMillan is a researcher. One is headed up by Prof. Ulrike Rivett (UCT Department of Information Systems) and has a focus on community engagement, public participation and curriculum; the second is located in the Schools Improvement Initiative and the principal investigator is Dr Jonathan Clark. This project has a focus on community-engaged learning in partnerships between the School of Education's Schools Improvement Initiative and the Health Sciences faculty. Both end November 2018.
Building horizontal learning platforms with community: This project emerged  via a mini-grant award from the Talloires university network through the 'university education for transformative leadership in Africa' project. Colleagues at the Feinstein Institute at Providence College are also involved. This project is ongoing, funding dependent.
Underpinning these projects is the development of a next generation of young academics who will be mentored through opportunities for teaching-led research and reflection. Funding from the Information Systems NRF project will be used for a research retreat, data collection, and analysis of student experiences on the Global Citizenship (GC) programme and Schools Improvement Initiative course in 2017.
The horizontal learning platform project is ongoing and contributes to curriculum development in the EBE course and on the GC short course programme. A local conference presentation in May and a symposium in the EBE faculty in September are two of the key activities planned for 2017. There are also two of the GELP study visits taking place.
One of the key outcomes of these projects combined is increased opportunities for staff development in the broad area of community engaged teaching and learning as a way to contribute to curriculum transformation at UCT.