Winner of the Stella Clark Teachers' Award, 2013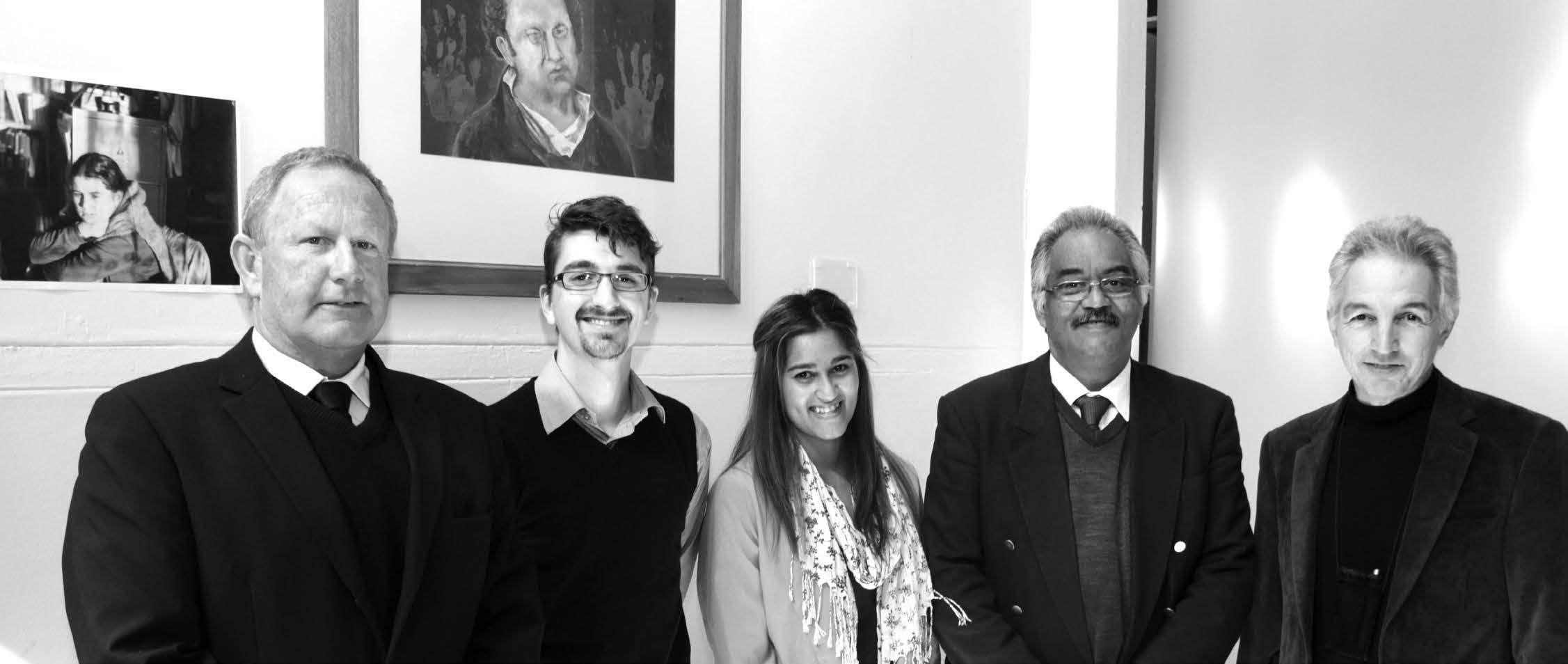 Mr Solomons, 2nd from right.
Our 2013 award winner, Mr Noel Solomons, has been teaching Science at Edgemead High for over 20 years. The committee was moved by the really excellent, detailed motivation written by Tarryn Lewis and David Kuter, both postgraduate students in the Chemistry Department at UCT. What is really significant is that they went to Edgemead High School 10 years apart and were taught by Mr Solomons who made a lasting impact on them. Tarryn is currently registered for Honours in Chemistry and David is a PhD student in the department.
Both students say that Mr Solomons has influenced generations of students at Edgemead. This was evident at the awards' ceremony (which included many of Mr Solomons' past students). Tarryn and David described Mr Solomons as a role model with a unique commitment to teaching and to his students. They described his deep knowledge of his subject area, his ability to provide accessible explanations for complex concepts and stimulate critical thinking. Tarryn spoke of how he would generate interest and excitement in his students by using real world applications of science. In her words, "Mr Solomons exceeds the requirements of a typical high school teacher by relaying his passion for his field in a way that makes students want to learn".
They described Mr Solomons as a humble, kind and generous person who connects with his students on an individual basis. Speaking at the Awards' ceremony the principal of Edgemead High, Mr Lawrence, said that
"Mr Solomons (who is also the deputy principal of the school) has the ability to instil a passion for science that has resulted in increasing numbers of our pupils entering tertiary education in this discipline and succeeding. He is at school at 6:30am where he takes extra-science lessons be it for 1 or 30 students. He has given up countless hours in the holidays to travel to rural areas throughout the country to tutor students and teachers who are struggling or do not have access to such knowledge and expertise. Within his own community and surrounds, he gives up his personal time in the afternoons and evenings to mentor less privileged students. He is a man who understands the needs of children, who has risen above his trials and tribulations, has chosen to remain in the trenches in order for our children to forge a better future for themselves and our country."